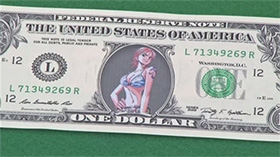 The bills of the popular animated cartoon "ONE PIECE" came up in Japan.
But it is a counterfeit bill.
It was put the seal of the character on the one-dollar bill and have been sold at auction site.
Stupid.
The criminal is 45 years old.
he sold it for one piece of 1,500 yen.
This 1 dollar is worth of approximately 14 dollars, it is such a profitable business.
Is this treated as a counterfeit bill?
The crime of the currency forgery becomes the life imprisonment or more than three years.
It is revealed that he did it for a fun, but is big sin.