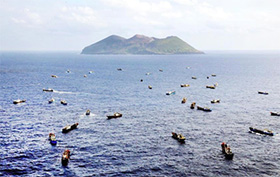 China damages Ogasawara Islands which are a world heritage.
The purpose is for poaching of the red coral.
Because the red coral is traded at a high price in China, it means that chinese damages the world heritage for money.
China is bad, but I am disgusted with correspondence of Japan.
Japan only says an objection and do nothing.
Now, a lot of chinese ships have been invading our country.
It is aggression.
In this case, all countries will attack against the ships absolutely.
However, Japan does not.
This is reason why Japan is licked.
Because Japan is protected by the United States. So, japan can not fight?
It is a bird that has been deprived of their wings.
If the United States withdraws, Japan will be invaded by the other countries.
Do Japan only say an objection then?
The coral reef spend for 30 years to recover.
Return our world heritage.