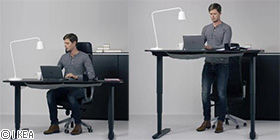 I want it.
The brand name is "BEKANT – Ergonomi".
The product which I wanted it for two years was released for low price.
The price is 480 dollar.
The other maker costs 2,000 dollar.
I feel 480 dollar to be cheap.
The height is adjustable from 65cm to 125cm.
It will be good to stand and work for a change.
However, unfortunately it is non-release in Japan.
I hope early so that it is released.