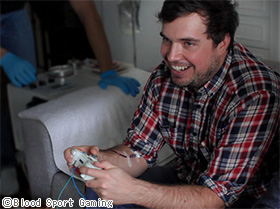 Do you know the apparatus called "Blood Sport?"
It seeks investment now in Kickstarter.
The goal of investment price is 250,000 dollars.
This apparatus realizes the world of the video game realistically.
There is "Game Over" in the video game.
One's character may be killed when you continue to play a game.
However, a player as yourself is not killed practically.
This apparatus pulled one's blood when one's character is killed.
Oneself gets damage realistically.
You may really die when you continue doing it.
The murderer becomes the enemy character in the video game.
Terrible.
Someday, it may be used for real war in the future.
I want it to be a delusion.
It seems that the investment price was gather 3,324 dollars.
It needs much more time for amount of aim arrival.