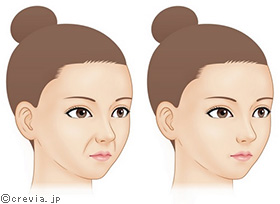 You will have a wrinkle when you got old.
If possible, you want to avoid it.
The wrinkle of the face in particular is just like an enemy.
In the wrinkle of the face, the nasolabial fold (laugh lines, smile lines) is tough.
There is the simple method that can prevent the nasolabial fold.
It is only improved just to turn a tongue.
Let's introduce a method.
Turn a tongue along the surface of the tooth with closing a mouth.
20 times of left side.
20 times of right side.
Perform this three sets in a day.
That's it.
It is not just effective in only the prevention of the nasolabial fold.
The prevention of the nasolabial fold.
The prevention of the double chin.
Improvement of the distortion of the face.
The prevention of bad breath.
You just try this.
Let's do it first of all.