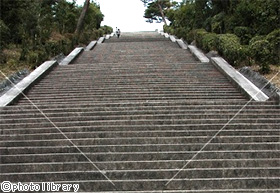 "I need exercise!"
The people that gained weight recently say it.
"Let's be a member in the fitness gym."
And you begin the workout every day.
However, it is only three days that you continued it.
Why is it?
You said that "I am tired".
And, you continue only gaining weight.
Then what should you do?
Do not do the exercise to continue.
Choose the exercise to use the muscular strength for excessively.
Excessive exercise?
What is it?
Use the stairs in the office.
Get off at a station before one and walk.
These two are enough.
Well, let's start.
You will lose 5 kg weight three months later.