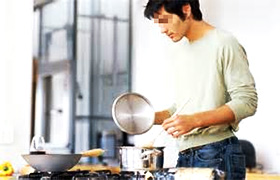 The husband works, and the wife works, too.
There are many such couples.
For busy two people, it is important to have the time together.
As for the time of "the conversation", it is the most important in that.
"The conversation" is essential for the happy marriage.
The marriage relations are over sometime soon if they cannot get even that time.
You must have it in marriage.
Then, what will the husband should do for the wife?
What does the wife wants the husband to do.
It is "a cook".
It is not to eat.
It is one to make.
The husband only cooks on a holiday, and the wife feels happiness.
You may cook together.
If the wife and your family are pleased, even slightly poor cooking is all right.
Let's begin it.
Let's become a cooking daddy from today.
Let's try effort to become a cooking daddy.