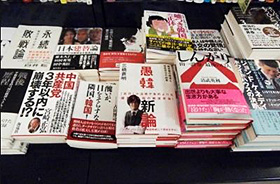 Japanese Hate speech becomes the world social problem.
I can understand the voice to go too far.
However, it is the freedom of expression.
It is a difficult problem.
There is a country called Korea which caused it.
Harassment for Japan is terrible.
And Japanese get angry.
There are many some Korean net articles and pictures.
The hate speech is natural if I watch it.
However, actually, a question "not to be an anti-Japan in Korea" so came out.
In addition, has a Japanese manipulated by the Japanese media done it?
Was the Japanese used for the profit of the publishing company?
There are many books which performs bashing of Korea in the Japanese bookstore.
But, the Korean bookstore does not have many books of "Anti-Japan".
If it is fact, I am ashamed.
I can understand the reason warned of the Hate speech from the United Nations.
If Japanese excuse it, they will say that the media has a problem.
It will be the buck-passing.
I think that japanese would be condemned from the world again.
I feel sorry.