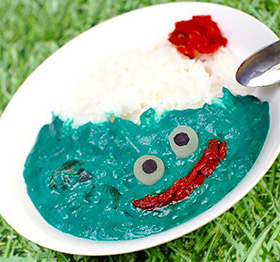 Slime is the monster of the game.
The slime comes up as curry.
It is called "Slime Curry".
The color is light blue.
It is not common in compared with regular curry.
I do not feel any appetites.
It is planned by the staff of the store " Village Vanguard",
It will be sold.
Vegetables, chicken, beans seem to be in this curry.
The price is 1,080 yen.
It is a retort curry of 200g.
I will not have it,
Enjoy the new weird curry!