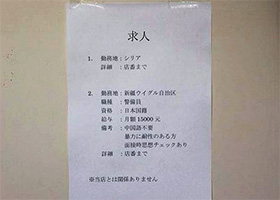 The Japanese college student who planned a voyage to Syria to participate in ISIS received a search.
Besides, I am surprised that it was at the job board of a common bookstore of Tokyo.
Job offer contents
Job1.
Location: Syria
Details: Ask
Job2.
Location: Shinjang Uyghur aptonom rayoni
Position: Guard
Qualification: Japanese nationality
Salary: Monthly basis 15,000 yuan
Remarks: Chinese unnecessary, It is a person with the tolerance for violence, There is an interview thought check
Details: Ask
* It is not related with our store.
However, this job offer was mischief by the people of the bookstore.
The bookstore introduced the student who applied for this job offer to a university professor of the Islam law.
The contents of the job offer are very sloppy and are hard to believe applying for such a stupid thing.
However, plural students have applied.
This fact is terrible.
It means that the Japanese student is discontent against the world.
ISIS is a group which youths of various countries participate in.
Even if this ISIS disappeared, a different organization is created and will be repeated forever.
I cannot find a word but there are no solutions.