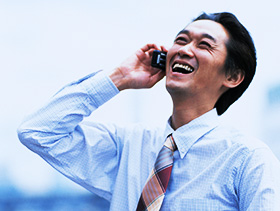 Than is said to meet you to be "fun",
The person who is said to meet you to be "happy" is good.
There are a lot of "fun" is that you are alive to life.
In comparison, you can feel "happy" that is not many.
I do not know why.
I feel much better to be in the work, you feel painful than I think it is a lot of fun.
However, instead of "fun" is feeling at the time of the achievement, and I think that it is "happy".
Everyone want to have any time to "happy" with emotion.
It is even more so at work.
From one person,
It may be said "It's impossible" he said.
While others feel that's impossible,
There are times when you do not feel too difficult yourself why.
I do not know some reason.
Even though you've never done,,,,.
I feel confident.
Confidence unfounded,,,,.
So, you can gone to believe in yourself
Happy feelings will explode.
However,
At that time, and is praised by others who said that it is impossible,
You will feel the happiest in the world.
Praise from person inspires further yourself,
Feel more forces seeping ever will.
It is a thing that I want to always feel such a feeling.