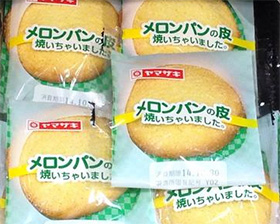 There is the bread called the melon bread which is modelled on the form of the melon.
It is the bread which anyone has eaten in Japan.
And, it has begun to release only the melon crust.
And it is sold out after another.
The melon crust is surely delicious.
However, it may be just a cookie.
The price is 76 yen.
It is not cheap.
I do not know why people are buying it.
Next time, Does even skin of the sponge cake intend to be sold?