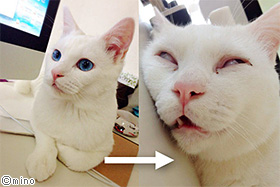 A beautiful cat.
The name "Setsu".
Blue eyes, a pure white hair.
Too beautiful.
However,
The sleeping face is severe.
What's happenning?
Its sleeping face is the dead face that had a totally miserable experience.
This sleeping face becomes the topic and released a photo book.
How about purchase it if you are interested in.