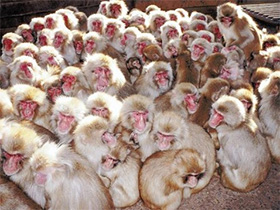 Japan is frozen this year.
Too cold.
It is not only a human being to feel cold.
The monkey feels cold, too.
These Monkeys are topics.
It is called "a monkey dumpling" that a Japanese monkey is close together to keep warm.
They can get over cold when they make "a monkey dumpling".
100 monkeys become "the monkey dumpling".
It is cute.
There are many monkeys which close eyes and endure.
I'm sorry.
Human beings can not do anything for the monkeys.