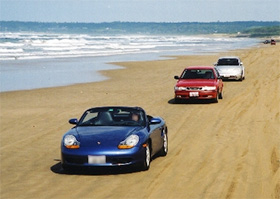 "I want a car."
"I want a new car."
However, the new car is expensive.
You must choose the used car.
There are a lot of used cars with good conditions.
It is very similar with a new car.
There will be many people thinking about.
However, in the case of a used car, there is the point that you must be careful about.
There is the car which a used car dealer does not buy.
What is that?
No maintenance record.
Strange noise from an engine.
The shape of the door or the trunk is distorted.
There is the marks repaired.
Only a seat is old.
In the case of a used car, it is necessary to make the car look better.
Therefore a meter is rewinded and some distortions is repaired.
When you sell it somedays, you are not able to sell such a car at a high price.
You cannot notice the hidden damages like a used car dealer, but the effort is necessary.
It is the first step for happy car life.