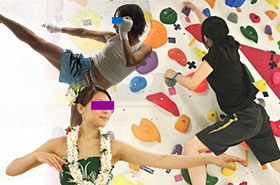 The diet is hard.
You never get thinner every day even if you go to the gym.
"Why?"
You feel so.
Are there the sports which you can get thinner in spite of being fun?
There is it.
You will be satisfied.
It is got thinner although being a fun.
I recommend it to you who are greedy.
Kick boxing
Hula
Bouldering
Being common to these three sports, it is to use the muscle not to usually use.
You only exercise the same muscle even if you go to the gym.
Besides, though you want to get thinner, you get muscle, and a body grows big.
Relaxing slowly, it is important to sometimes exercise intensely.
After all, you do not follow when not fun.
A hint to get thinner may be "Fun".