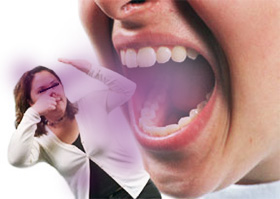 Bad breath.
It is a big problem!
It is always at high position in the stinking ranking.
The image of the person changes by bad breath, and the people may dislike you.
Anyone does not feel good that you keep having the bad breath.
Then, how should you prevent it?
Gargle.
Do not brush your teeth after a meal by all means.
Prevents you from being tense.
Brush your teeth by all means in the morning.
I can say one word about the above.
It is the quantity of saliva.
The secretion of saliva seems to decrease when yoou get old.
A little quantity of saliva causes the bad breath.
It is difficult to control quantity.
However, you have to do it.
You should carry it out if you do not want to be avoided by the other persons.
"Decline of quantity of saliva = bad breath"
It is surprising.