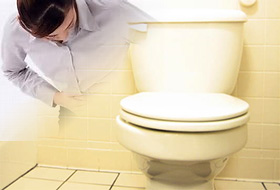 The man is not constipation.
However, I know the constipation is painful for you.
You feel hell.
There will be many people who carry it out immediately if you understand a cause.
How do you do not to be constipation?
Eat many vegetables and fruit every meal.
Drink 2 liters of water a day.
Do exercise to use the abdominal muscle.
Because it may be caused by a disease, Talk with a doctor.
Confirm prescribed medicine.
Take the time for restrooms for ten minutes in morning.
Do not endure it without choosing the place when you feel defecation desire.
Stop taking constipation medicine.
There seem to be various causes.
Try it one by one.
If constipation is improved, life becomes fun, and the skin becomes beautiful, too.
If constipation continues, the bowels explode and may die.
You must be improved right now.
Let's do your best.