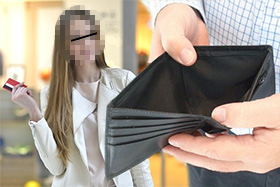 When you come home, there are a thing and the clothes which you have never seen.
Besides, it happens every day.
The wife bought it again.
The wife has never stopped buying even if you say again and again.
How should you do so it?
Should you scold her?
Useless. And, meaningless.
Her greed will not change forever.
However, there is a method to get over.
It will be to reduce purchase will.
What should you do?
You only change the color of her wallet to "brown".
This brown has a meaning.
Brown means
Color of the mother earth
Very large warmth
A sense of stability
By the effect of this color, impulse to spend money disappears.
Please change not only the color of the wallet but also the keyboard, mouse and smartphones to the brown.
You should try to know that it is a lie or the truth.
Let's try it right now!