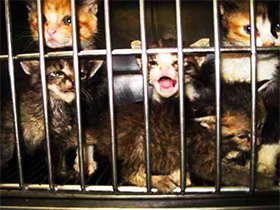 What is it sacrificed of?
It's Dogs and cats.
And, there are 170,000 animals that are dumped and killed annually by Japanese.
Sad.
When the man was in elementary school, the man also had a dog.
Her life was nine years, and she is still living in my heart.
Tears come out when I remember her friendly smiles.
By having a pet, people feel something, are given a lot.
Not feeling from the people, we receive something from a pet.
Now, the pet industry became the 400 billion-yen business in japan.
In the behind of the industry, there is a fact that pets are killed.
What is the problem?
There are a lot.
First,
There is a problem with the breeders.
There is no license to be the breeders in japan.
Breeding and Selling. It is repeated.
Because there is huge demand and huge supply, so this problem would occur.
In addition,
Costing the pets sacrifice in the disposed center is cheap.
Depending on the body weight, it is just 2,000 to 5,000 yen.
However,
If you pick up your lost pets in the disposed center, it costs at least 7,000 yen.
Do not you think that it is the problem?
In Japan, dogs and cats are treated the same as the thing.
Therefore, it means just buying and selling of the thing.
It is not treated as a creature.
This is the fact.
Listen, people who are having any animals.
I want you to take a responsibility till the pets die.
Do not have the pets if you can't take it!
Idiot!