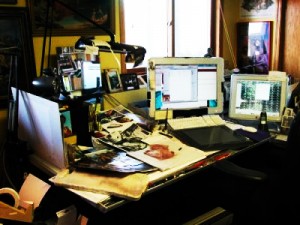 Hayao Miyazaki, Great master of the animated cartoon world said to.
"We must take care of the animators' pay."
The STUDIO GHIBLI seems to breakup a production section.
It costs 2 billion yen a year for all animators' wage.
The production cannot keep running without sales at least 10 billion yen a year.
The animator spends days with severe working conditions.
When it is a hard work, they have to work for 600 hours a month.
I do not understand what it happens. I do not want to think about it.
It means yearly income seems to be animation wage (1,050,000 yen), original picture wage (2,300,000 yen).
There is too few it.
Is it not a violation of the worker law?
Why is this cheap salary system?
A person says.
"It is a big crime of Osamu Tezuka"
Tezuka produced first Japanese TV animated cartoon "Astro Boy" at a price of 500,000 yen.
Because of this precedent, pricing that production of the following animated cartoon were always low.
Besides, Tezuka produced an animated cartoon to produce with 3 pieces/s, but it should usually be 12 pieces/s.
He have carried out a way not to be able to be called the animation.
Therefore the current animator must produce the animations of 12 pieces/s at the prices of 3 pieces/s.
It becomes the root that has produced inferior labor circumstances.
The Japanese animated cartoon has accomplished the work which is extreme popularity worldwide.
However, it is not continued forever.
People cannot live only for production will.
Miyazaki accomplished great animation works.
However, he was not able to change the labor circumstances of the animation production.
Nobody can criticize Miyazaki by this matter.
And, I am so sorry about the breakup of STUDIO GHIBLI.
Finally,
Miyazaki may become the first and last great master in the Japanese animation.