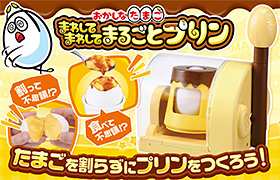 A revolutionary product came up in Japan.
It is a toy which changes a raw egg to a pudding.
First, you put a raw egg in a toy and only turns a lever for two minutes.
And it is completed if you put it in the boiling water for 30 minutes.
After that, you break the upper part of the egg and put a spoon and only eat.
It seems to be more delicious when you put caramel sauce.
It is not necessary to use the fire, and a child can cook a pudding safely.
It is an epoch-making product.
But I do not buy this toy.
I will buy a pudding in a convenience store.