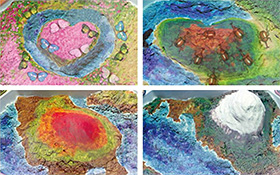 Sega announced indoor business amusement apparatus "Edel Sand" which changed interactively and which made full use of special sand and projection mapping imaging technique.
"Edel Sand" uses the special sand developed in Sweden.
Molding without water is possible, and it does not attach to a hand.
Setting up the projector above the sand, it is projected an image interactively by sensing the difference in height between the sand.
It becomes the sea if you dig sand and becomes the mountain if you pile it up.
The picture changes in real time.
It is the apparatus which I wants to say "Good Job! Sega".
Not only the child but also adult seems to be able to play.
It will be fun if you play in this large sandbox.