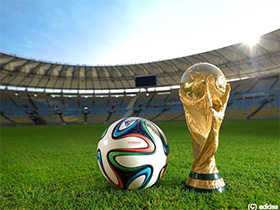 World Cup in Japan ended with three consecutive losses almost.
Frustrating.
Or rather, there is only a miserable feeling.
If the Japanese football as usual, it did not become such a result.
To what went wrong?
Man is for amateur football, but it is clear at a glance.
Zaccheroni of supervision, is this person.
First, I want to say.
When you announce the members, he gave me a surprise to us.
It is the selection of "Yoshito Okubo".
Okubo player is a player of great about become top scorer.
It showed me a great movement in this tournament.
However, football is what to do with 11 people.
In this surprise, the man was convinced "something happens in the W Cup" he said.
A good thing, a bad thing, it is not known.
However, there is no choice but to think about bad things have occurred.
Say is,
Japan team can be said that a team of Honda player.
Do you can Okubo players take the cooperation with the team as soon as it entered the Japanese team?
Can I express the usual formation?
I used to work in any, to enter the team, from watching the way of work of the team, teamwork is born with or to make suggestions of their own.
I do not think it enters the team suddenly in such a surprise, and put out the results.
In fact, not out.
Furthermore, Okubo player is a starting lineup with three games.
This is, I miss the helm of first Zaccheroni was committed.
This result, or was able to imagine W Cup pre-season?
I do not want to say only this.
Helm miss the second, eight minutes into the second half of Ivory Coast game.
It is a change of Hasebe player.
Japan players was nervous.
They were nervous, even the second half.
Why the change of captain Hasebe players?
Still, it's time zone in which the leader must lead this team.
Immediately after that, the appearance of the player Drogba.
Leading players the team.
Player that is respected by everybody.
Hero of the Ivory Coast.
Atmosphere of the game has changed.
And,
Japan, lost.
Yet, still, there is something to say.
Substitution. Never was even practice "power play",,,,
That's enough. I'm sick.
In the end,
I want to say to Zaccheroni.
You broke the dream of every four years of Japanese.
W Cup's "fight".
If this were war, then, is dead all players.
You are a war criminal.
Players were cheers for hard work.
I hope in four years later.
Go for it! Samurai.