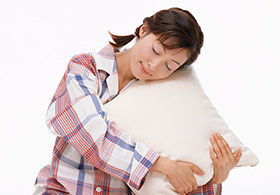 "Sleepy."
"I want to sleep."
But you do not have the time.
There should be many such people.
You work too much.
However, you must work.
You must cut the time for the sleep.
The lack of sleep is risky.
What kind of risk is it?
The balance of the hormone collapses and gains weight.
It is easy to suffer from a disease. In particular, a cancer.
Terrible.
What should you do to avoid this risk?
It is 7-hour sleep.
It is the sleep with a few risks.
In addition, it is risky to oversleep.
Brain degenerates.
You should have regular lives, and let's make a sleep consciously.