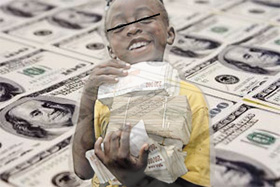 "I want to become rich."
Most people think so.
Therefore, people are working hard every day.
However, do you know the rich friends who are working hard around you?
There will be no at all.
Because you can not be rich by yourself.
Then how would the rich person become rich?
An answer was unexpectedly easily given.
It makes another person ot be on your side.
Then how should you make another person to be on your side?
Give what a partner expects all.
Here you go.
To be rich, you must grasp what a partner expects.
Your partner is gonna be on your side if you grant the wish as much as possible.
They will become your cooperator.
You increase many partners, and you works hard, too.
It is only this.
However, this is hardest thing.